New framing and lining
Stage 5. Make the shower stand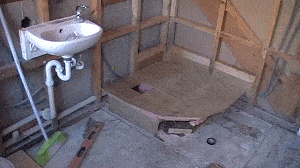 Time to start the rebuilding.
Because the waste pipes were in the side wall (as opposed to under the floor), we had to make a raised shower stand to accommodate the shower waste.
The stand consisted of 6″ x 2″ (150mm 50mm) joists and a 3/4″ (20mm) thick plywood floor. The joists had to be arranged in such a way as to allow the waste pipes to be positioned to suit the shower tray. The stand floor was then fixed on top of the joists with a hole positioned to align over the shower waste.
The position of the shower waste and the hole in the stand floor was determined by the hole in the shower tray.
Stage 6. Install the shower tray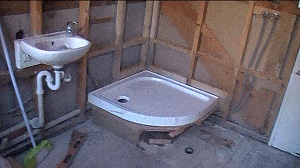 The shower tray was glued to the stand floor and left weighted-down overnight to give the glue a chance to set.
Note: The hole in the shower tray should be aligned with the hole in the stand floor and it should be an easy task to connect the waste to the shower tray.
Shower trays come in varying sizes, shapes, up-stands, and hole positioning.
Stage 7. Insulation and up with the new wall and ceiling linings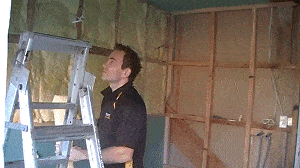 Note: Now is the time to get the electrician in to do any wiring in the framework if you need to change existing lights and/or power points, or add additional ones.
In goes the insulation, and up goes the wall and ceiling linings.
The lining should be suitable for a bathroom, and able to withstand the moisture it will encounter.
In this case, it was a type of plasterboard treated for such areas.