Step 4. Make up the back seat side-frames
Make up the two back seat side-frames.
Assemble both back seat side-frames as shown in the photo and as per plan below.
FixTo secure with nails or screws. horizontalParallel to the horizon, flat, level. pieces [d] and [e] to pieces [b] and [c] with screws and exterior woodTimber, lumber. The hard fibrous lignified substance under the bark of trees glue. Use 2 screws per meeting. Pre-drill the screw holes through the horizontal pieces.
The frames must mirror one another as shown in the picture. Take note (from the picture) of which side (of piece [e]) the starter hole is on.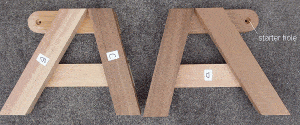 Ensure that the bottoms of pieces [b] and [c] and the horizontal pieces [d] and [e] are parallelBeing of equal distance from each other at all points..