Step 11. Add the tabletop boards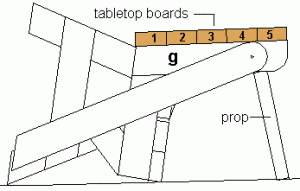 Refer to the drawing above and add the tabletop boards as follows:
1. Fix board no.1 and board no.5. Make the overhang at each end equal.
Board no.1 starts flush with the end of piece (g). It can be glued and screwed in place.
Board no.5 is temporary, just to keep the tabletop rails (g) parallel. Screw but do not glue.
2. Fix (with glue and screws) boards no. 2 and 3. Then take off board no. 5.


3. Whoa, hold it there. Time to fasten the tabletop boards in the middle to stop possible wrapping which could make for an uneven tabletop. Read the next step 'Step 12. Keeping the tabletop boards even'. Apply that method to the three tabletop boards already fixed in place, and then add boards no. 4 and 5 securing in the same manner, as you go.
Leave the unit in that position, with the clamps still on, until the backrest stops have been fixed in place as explained in step 13.
Later, once the unit is in picnic table mode (towards the finish), you can fasten the middle of the seat boards in the same manner as you fastened the tabletop boards.