Appendix 2: The backrest clip-on
A backrest clip-on if you want to make the backrest a bit higher for comfort or looks.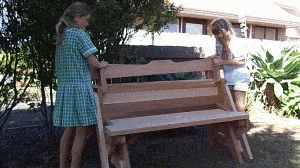 You will need:
• 1 piece of 2×6 (50mm x 150mm) that is 60″ (1524mm) long.
• 4 pieces of 2×4 (50mm x 100mm) that are 10″ (254mm) long.
• A dozen 3″ (75mm) screws and a bit of glue.
Make the clip-on up according to the following plans and pop it on top of the backrest when the picnic table is in bench seat mode.