The angles pattern
There are three different angle cuts required for this project – 10 degrees, 15 degrees, and 30 degrees.
If you want a pattern for the three angles, click on the image below and it will open up in a new window and bigger size. You can then print it out.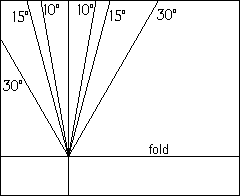 Once you have printed the angles pattern out, fold it over a table and then use the pattern to set your bevel to the angle you want, as in the picture below.