Step 3. The bolt holes
Each bolt hole will begin with a wider starter hole to embed (countersink) the bolt head or nut.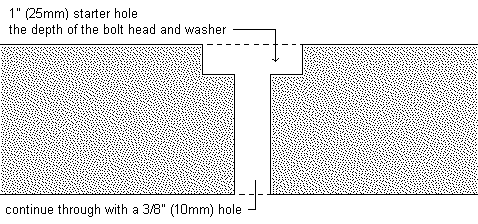 Drill a 1″ (25mm) starter hole the depth of the bolt head and washer ON ONE SIDE ONLY of each relevant piece. Then continue through the wood with a 3/8″ (10mm) hole.
Now listen up – this is important: There are two of every piece and each pair mirror one another. Hence, the starter holes must be on opposite sides of each matching pair. Simply follow the pictures below and take note of what side the starter holes are on.
Pay particular attention to the hole placement in piece [g]. Refer to the plan drawing below.