Unfolding the chair
Step 9. The chair unfolding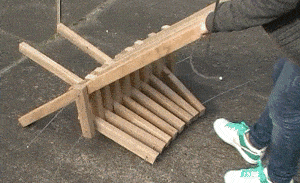 Simply grab the wire at each end of the chair top and lift the unit up so it's upright and on its legs.
This is one of the most rewarding stages of the project – seeing it fold into a chair.
Step 10. Squeeze the pieces in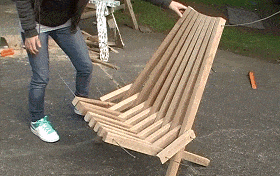 Squeeze the top of the back pieces together: i.e. just with your hands, push the pieces together until they touch.
The wire is longer than necessary at this stage and will need trimming.
Step 11. Snip the wire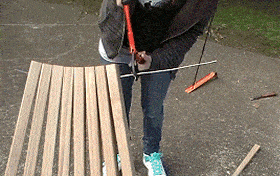 When the top of chair is pushed together, cut the wire at each side leaving a "2" (50mm) overhang.
(Note alternative fastening option before Step 14 which requires a shorter overhang.)
This can be done with a tool such as a bolt cutter, a wire cutter, heavy pliers, or a hacksaw
Step 12. Fold and staple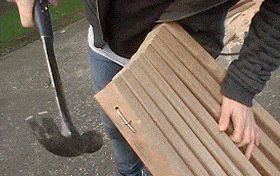 Fold the wire over and fasten with two galvanized wire staples, at each fold.