Final touches and a bit of sanding
Step 13. Snip more wire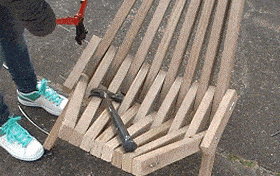 Ensure the sides (where the couplers are) and the seat ends are all pushed together, and cut the rest of the wire leaving a 2″ (50mm) overhang at every point.
Then, with a hammer, bend the overhangs over against the wood and fasten each bend with two galvanized staples.
Alternative fastening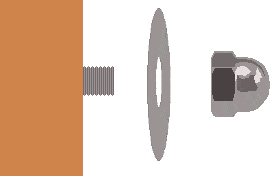 If you prefer a more polished look (fastening-wise), another option is to make a thread on the ends of the wire, and then secure each end with a washer and dome nut.
This would mean leaving approximately a ⅜" (10mm) overhang on the wire at each point rather than the 2″ (50mm) overhang and making a thread on the ends of the wire.
A thread can be easily made with a tool called a 'die'.
The plans can be purchased online and immediately downloaded to your computer.
Step 14. A bit of sanding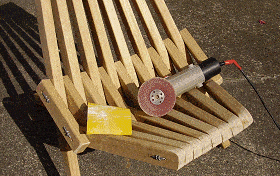 Finally, a bit of sanding.
Get rid of all the sharp edges and that's about it.