Cutting, drilling, and aligning  the pieces
Step 1. Cut and drill the pieces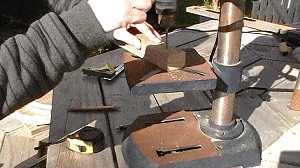 Cut all the pieces according to the cutting list on the previous page. There will be 25 pieces altogether and each piece will need to have 2 holes drilled through it.
Make the holes ¼" (6mm) thick and ensure that they are all in the center of the wider side of the wood.
Position two holes along each piece as follows:
Pieces (a) and (b). Measure from one end 1½" (37mm) and 12″ (300mm).
Pieces (c), (d), and (e). Measure from one end 1½" (37mm) and 25″ (625mm).
Pieces (f). Measure in from both ends 1¼" (31mm).
Refer to the "where to drill the holes" drawing on the previous page for a bit of a visual guidance.
Preferably use a drill press to ensure the holes are straight and at right angles to the face of the wood.
This will make it easier to align the pieces and thread the wire.
Step 2. Align the seat pieces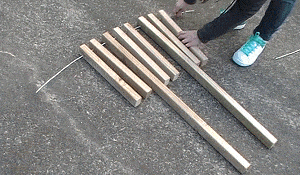 Lay the seat pieces in a row, spaced apart about a thickness of a piece, in this order (a) (a) (b) (a) (a) (b) (a) (a) with the holes lined up.
Thread a piece of approximately 5/32″ (4mm) thick mild steel galvanized wire through the top holes. See the photo.
Note: The holes are ¼" (6mm) diameter. That is about 3/32″ (2mm) more than the thickness of the wire. A bit of play is necessary in order to easily thread the wire.