Threading the wire
Step 3. Add the couplers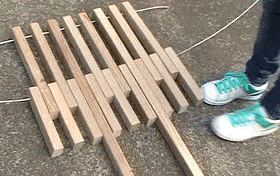 Position the couplers (f) in a row, one each side of the two end seat pieces and one in between each seat piece.
Align the holes in the couplers with the lower holes in the seat pieces, and thread another length of wire through the holes.
Note: The wire is longer than need be at this stage. It can be cut to suit later on.
Step 4. Thread more wire
Lay the back pieces in a row, spaced apart a thickness of a piece, in this order (e) (c) (d) (c) (c) (d) (c) (e) with the top holes in line.
Thread wire through the top hole.
Note: The holes should be bigger than the wire to allow ease of threading. Refer to Step 1.
Step 5. Sit the back pieces on top of the seat pieces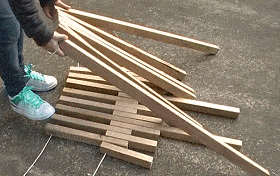 Move the back pieces over the seat pieces.
Sit each back piece (e), (c), (d), (c), (c), (d), (c), (e), on top of each seat piece (a), (a), (b), (a), (a), (b), (a), (a), respectively.
For further visual reference see the 'step 5 drawing' at the bottom of the previous page.