Plan drawing – Where to drill the holes
Below is a drawing of all the pieces giving the dimensionsAny of the three linear measurements, length, breadth and depth. for the hole positions.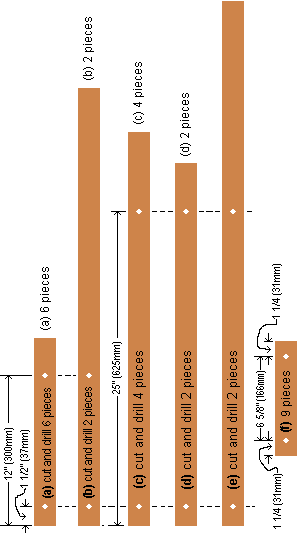 Also are drawings showing the wire threading layout.
Refer to the cutting list on the previous page for the lengths of the individual pieces.
Make all the holes ¼" (6mm) diameter and drill through the wider faceThe widest side of a piece of wood. of the woodTimber, lumber. The hard fibrous lignified substance under the bark of trees.
In other words, the wood size is 1½" x 1¼" (45mm x 33mm), therefore drill through the 1½" (45mm) wide face.

The plans can be purchased online and immediately downloaded to your computer.