Instructions – Making the legs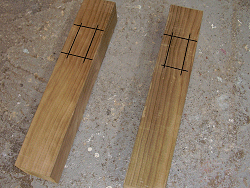 Step 1: Make the front legs
Ft and inch version
Out of 3 1/2″ x 3 1/2″ woodTimber, lumber. The hard fibrous lignified substance under the bark of trees, cut two pieces (the legs) at 19″ long.
Metric

Millimeter measurements.

version
Out of 90mm x 90mm wood, cut two pieces (the legs) at 475mm long.
They will each need a hole (mortise) cut through them to house the side rails.
To do this, first mark the mortise hole positions on the legs.
The holes will need to be marked on both sides of each leg, so they can be worked on (drilled and chiseled) from both sides.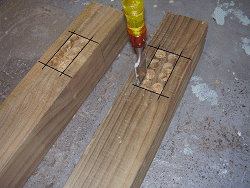 The top mark of each hole will be 16″ (400mm) up from the bottom of each leg.
The hole size will be the same as the side railThe top and bottom frame member of a door or window (not the jamb). Cross member of panel doors or of a sash. Also the upper and lower member of a balustrade or staircase extending from one vertical support, such as a post, to another. The horizontal member of a fence. width and thickness, which is 1 1/2″ x 3 1/2″ (90mm x 45mm)
Mark the holes accordingly on both sides of each leg.
Ft and inch version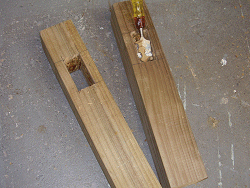 Metric version

Cut out the holes (mortises)
Drill out the waste, drilling from both sides of the legs.
Drill inside the marked areas, as close to the marks as possible.
Clean up the holes in both legs with a chisel, coming through from both sides, bit by bit, until the mortises are formed and the side rails can fit snugly into the holes. Then slightly round the tops of the legs with sandpaper (see drawing above).


Step 2: Make the back legs
Ft and inch version
Shape the back legs out of 1 1/2″ x 5 1/2″ wood.
Cut two pieces 36″ long.
Draw a grid on one of the pieces with the grid spacings 2″ apart.
Metric version
Out of 90mm x 45mm wood, cut two side rails at 575mm long.
The front legs are already made (step 1).
Add some glue to the insides of the mortise holes in the front legs.
Then tap the side rails in through the mortises, until they protrude 25mm out the other side.
Using the picture below as reference (or using a clearer picture here), approximate the points between the grid lines on the leg piece. Then draw lines from point to point so that you have a pattern on the leg piece similar to the pattern drawing below.
Ft and inch version

Metric version

Then cut the wood along the lines using a power saw, jig-saw and handsaw where needed.
Once you have cut out the first rear leg, use it as a pattern to mark and cut the second leg.