Back and front assembly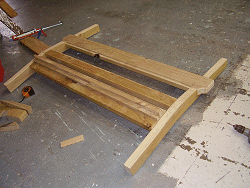 Step 8: Assemble the back
Make up the back comprising of the two rear legs, the upper backrest rail, the lower backrest rail and the rear rail.
The grooves in the upper backrest rail fit into the cut-outs in the top of the rear legs. Once fitted, they can be nailed.
Refer to the drawing below for detail on where to fix the lower backrest rail, the rear rail and a seat support.
Ft and inch version

Metric version

Nail the lower backrest rail in place and then screw one of the seat supports to it, 1 1/4″ down from the top.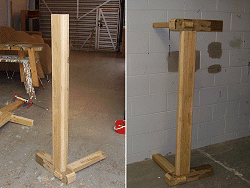 Step 9: Assemble the front
Fix the front rail to the two front legs.
Use the pictures as a guide.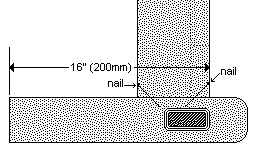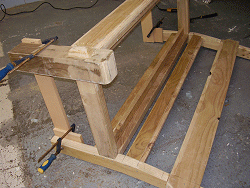 Step 10: Join the front to the back
Align the front portion of the bench frame above the back portion, and hold it in position with props and clamps (see photo).
Ensure the alignment is correct and that the lower part of the rear legs are parallel with the front legs, and then nail the side rails to the rear legs.
Leave the clamps on until the shaped braces have been fixed in place.