Arms and back infill
Step 13: Fit the arm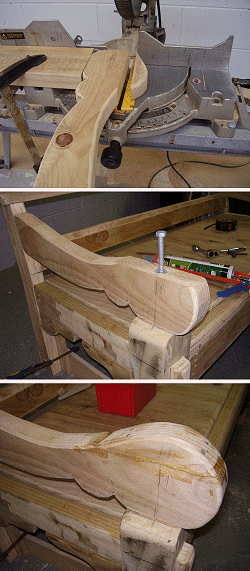 Cut the tops off the knobs on both arms.
This can be done with a miter saw, band saw, bench saw or even a hand saw.
Add glue to the ends of the arms and the top of the front legs.
Position the arms and fixTo secure with nails or screws. (nailA short nail with a large flat head used for securing roofing felt, plasterboard, sheet metal to wood etc.) the back of them to the rear legs. The front of the arms will be sitting loosely on top of the front legs.
Drill down through the top of the arms into the top of the front legs.
Make the drill hole (through the arm) the same size as the shankThe nail not including the head. of the screw.
Make the drill hole into the top of the leg, a smaller size than the shank of the screw.
Insert the screws (8″ (200mm) long galvanizedCovered with a protective coating of zinc. lag screws) and tighten them.
Then glue and nail the top pieces back on the arm to cover the boltA metal rod that has a head on one end and threads on the other and is used to fasten together lumber. The most common bolts used or referred to in projects within this website are coach/carriage bolts and hex bolts. heads.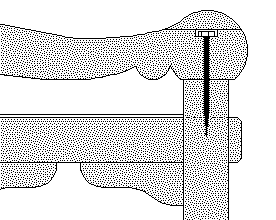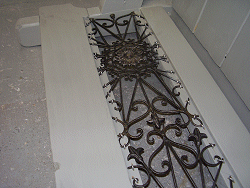 Step 14: Paint it and fit the back infill
Finally, Paint the bench and then fit some sort of metalwork to the back of the seat.
This can be wrought iron, a decorative metal wall hanging which can be found at some garden centersCrs; O.C; Term used for spacing; The measurement of spacing for studs, rafters, and joists in a building from the center of one member to the center of the next., or anything similar – even woodTimber, lumber. The hard fibrous lignified substance under the bark of trees art or trellis.
A seat to be proud of. Enjoy!