Step 1.4. Hypertufa
Hypertufa (in a sense) is a lightweight concreteA mixture of sand, gravel, water and cement which hardens to a stone like condition when dry..
Some expert advice: The success of hypertufa depends on the consistency of the mix and the amount of attention paid to the curingThe hardening of concrete. The process of becoming hard or solid by cooling or drying or crystallization. In concrete application, the process in which mortar and concrete harden. The length of time is dependent upon the type of cement, mix proportion, required strength, size and shape of the concrete section, weather and future exposure conditions. The period may be 3 weeks or longer for lean concrete mixtures used in structures such as dams or it may be only a few days for richer mixes. Favorable curing temperatures range from 50 to 70 degrees F. Design strength is achieved in 28 days. process.
Okay! Having read stories about other people's less than perfect hypertufa attempts resulting in cracked and crumbling end results, I decided to take the above advice very seriously.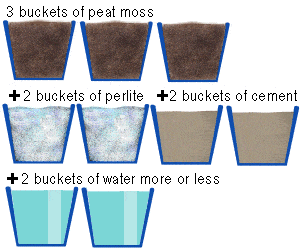 My hypertufa mix
● 3 buckets of peat moss
● 2 buckets of perlite
● 2 buckets of cementA powdery type substance made from a mixture of earths materials such as limestone and shale, which is sintered (cause to become solid mass by heating without melting), ground, and mixed with small amounts of calcium sulphate and calcium carbonate. Cement is activated by water and when mixed with gravel and sand, forms concrete.
● 2 plus buckets of water (more or less)
The peat moss and the perlite was bought from a garden center and the cement from a building supply store.
Some safety stuff: Breathing in any of the above ingredients (except the water) is not good for your health. Wear a mask, goggles, gloves, and appropriate clothing. The ingredients are very light and any wind or mixing disturbance will cause the dust particles to float through the air.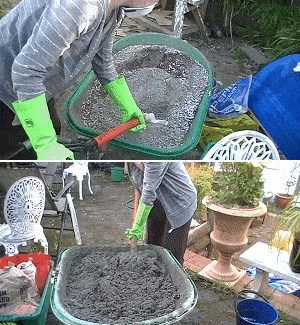 The mixing
The above dry ingredients were poured (carefully) into a wheelbarrow and mixed together with a spade.
Then the water was poured in slowly – about 1/2 of a bucket at a time – and the mixing continued.
It was mixed with the spade from underneath and folded over. Mixing and adding water continued until the mix was a uniform consistency: wet enough without puddling and able to be spread without crumbling.
Tip: A smaller spade or shovel is easier to work with than a bigger one.