Chapter 1: The Head
Overview of the head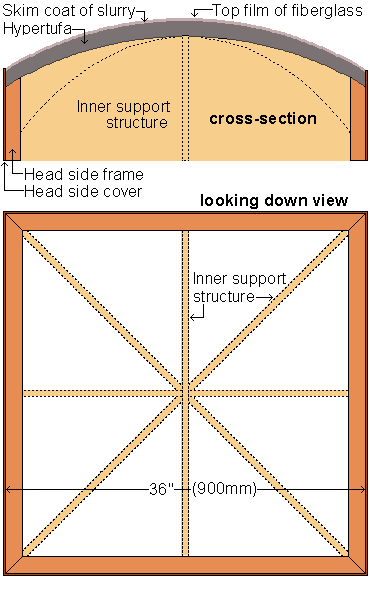 The head was the most involved (and probably the most exciting) section of the project. It touched on four crafts: woodworking, lightweight concreting, fiberglassing, and painting.
The head was made up of the following (in the order of making):
● The side-frames, out of 2″ (50mm) thick wood.
● The inner support structure.
The inner support structure comprised the cross-section and diagonal-section pieces that were used to support the roof until the different applications (hypertufa, slurry) cured or set.
Most of this was then be removed.
The inner support structure from a looking down point of view was sort of like an eight-spoked asterisk ✳ .
● A layer of hypertufa (lightweight concrete) about 1¾" (45mm) thick.
● A thin skim of slurry (a paste-like mixture of cement and water).
● The side-covers, out of 3/16″ (4mm) plywood.
● A thin cover (roof only) of fiberglass.
Getting started
The first thing that I did after looking at a trillion photos, was to play around with design on paper.
I eventually came up with my final working drawings. My plans.