Chapter 1: The Head
Overview of the head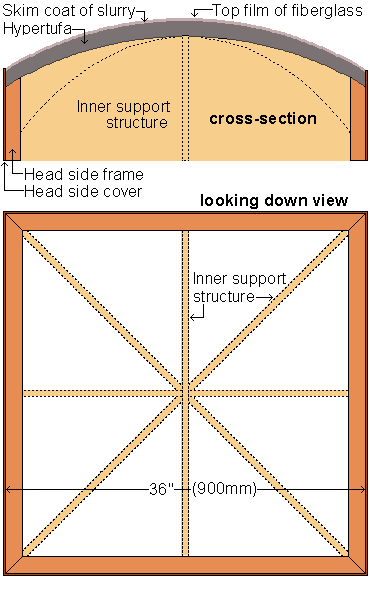 The head was the most involved (and probably the most exciting) section of the project. It touched on four crafts: woodworking, lightweight concreting, fiberglassing, and painting.
The head was made up of the following (in the order of making):
● The side-frames, out of 2″ (50mm) thick woodTimber, lumber. The hard fibrous lignified substance under the bark of trees.
● The inner support structure.
The inner support structure comprised the cross-section and diagonal-section pieces that were used to support the roof until the different applications (hypertufa, slurry) cured or setHow much the teeth are angled out on a circular saw blade..
Most of this was then be removed.
The inner support structure from a looking down point of view was sort of like an eight-spoked asterisk ✳ .
● A layer of hypertufa (lightweight concreteA mixture of sand, gravel, water and cement which hardens to a stone like condition when dry.) about 1¾" (45mm) thick.
● A thin skim of slurry (a paste-like mixture of cementA powdery type substance made from a mixture of earths materials such as limestone and shale, which is sintered (cause to become solid mass by heating without melting), ground, and mixed with small amounts of calcium sulphate and calcium carbonate. Cement is activated by water and when mixed with gravel and sand, forms concrete. and water).
● The side-covers, out of 3/16″ (4mm) plywoodA piece of wood made of three or more layers of wood veneer laminated together with glue..
● A thin cover (roof only) of fiberglass.
Getting started
The first thing that I did after looking at a trillion photos, was to play around with design on paper.
I eventually came up with my final working drawings. My plans.