Chapter 7: The ceiling and the night light
The desired effect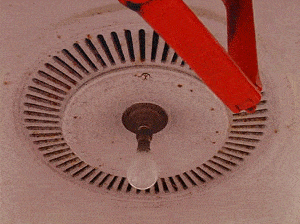 This is the picture of the ceiling that I wanted to emulate for my phone box.
I searched various stores for parts that may have helped me to put together a similar ceiling.
I looked in shops that sold plaster, fiberglass, and wood ceiling roses but to no avail.
I even looked in car wheel shops thinking that I may have come across a hubcap with a similar pattern (the rose in the photo reminded me of a hubcap).
Also to no avail.
Once again I ended up making my own.
Step 7.1. The rose and ceiling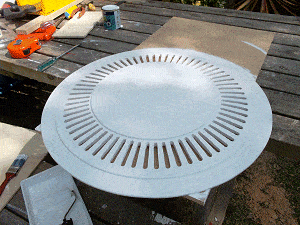 The rose is the fancy circle piece that is in the center of the ceiling. The light fitting is fixed to the middle of the rose.
The wood: To make the rose I used two pieces of 1/2″ (12mm) mdf custom board 24′ x 24″ (600mm x 600mm)
One piece was used to cut out the main circle which was 20″ (500mm) diameter. The other piece was used to cut out two circle pieces 6 3/8″ (160mm) diameter and one ring piece 2 1/2″ (55mm) wide with a diameter of 22 3/8″ (570mm).