Step 1.4. continued
Placing the hypertufa
How thick? – At least 1½" (40mm) thick.
By the way, the girl in the photos is one of my daughters, Angela, who enjoyed giving a helping hand from time to time.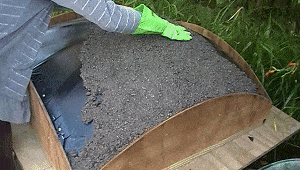 We (she) commenced shovelling the hypertufa into the head form, and spread it around with a gloved hand.
At this stage it was just half filled – a layer about 1″ (25mm) thick.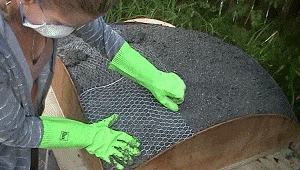 Angela placed sheets of galvanizedCovered with a protective coating of zinc. bird wire mesh on top of the (half filled) hypertufa.
The sheets of bird wire were cut to about 12″ (300mm) squares and slightly overlapped. If we'd used a full sized sheetAny broad, thin surface. it would have been too hard to achieve the dome shape.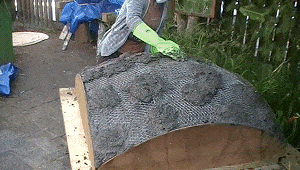 Then a few hypertufa patties were placed on the bird wire to hold it down.
Notice in the photo that Angela is wearing good waterproof gloves. These are a must when working with cement-based applications due to the caustic nature of the beast (the cementA powdery type substance made from a mixture of earths materials such as limestone and shale, which is sintered (cause to become solid mass by heating without melting), ground, and mixed with small amounts of calcium sulphate and calcium carbonate. Cement is activated by water and when mixed with gravel and sand, forms concrete., not Angela).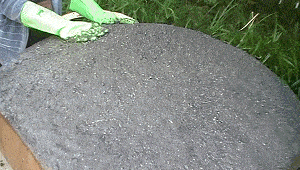 Then it was just a matter of topping up with hypertufa and smoothing it over with a gloved hand.
I realized then that the hypertufa finish would not be good enough as a final finish for the head. I was thinking that after an initial curingThe hardening of concrete. The process of becoming hard or solid by cooling or drying or crystallization. In concrete application, the process in which mortar and concrete harden. The length of time is dependent upon the type of cement, mix proportion, required strength, size and shape of the concrete section, weather and future exposure conditions. The period may be 3 weeks or longer for lean concrete mixtures used in structures such as dams or it may be only a few days for richer mixes. Favorable curing temperatures range from 50 to 70 degrees F. Design strength is achieved in 28 days. period I would add a skim coat of slurry – icing on the cake.