Step 1.4. continued
Hypertufa – The curing process
This is probably the most crucial segment of the hypertufa application.
CuringThe hardening of concrete. The process of becoming hard or solid by cooling or drying or crystallization. In concrete application, the process in which mortar and concrete harden. The length of time is dependent upon the type of cement, mix proportion, required strength, size and shape of the concrete section, weather and future exposure conditions. The period may be 3 weeks or longer for lean concrete mixtures used in structures such as dams or it may be only a few days for richer mixes. Favorable curing temperatures range from 50 to 70 degrees F. Design strength is achieved in 28 days. time – The longer hypertufa is left to cure (setHow much the teeth are angled out on a circular saw blade.) the better. I kept the hypertufa moist at all times during the curing process, which went on for ten days. It was easy to contain the moisture with a polythene (plastic) sheetAny broad, thin surface. covering the hypertufa.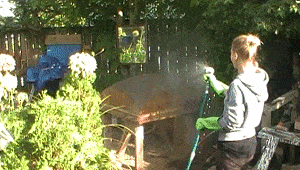 Once the hypertufa had been poured, we waited about four hours until the mix had just firmed enough to allow a sheet of polythene (plastic) to cover it without damaging the mix.
Through that initial time we kept the hypertufa moist, mist spraying it a couple of times.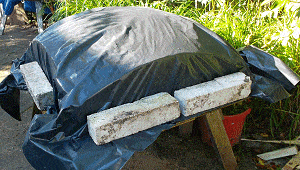 Why cover it with polythene?
As mentioned before, hypertufa must be kept moist during the curing process.
One of the main culprits that causes the hypertufa to dry out during the curing period is evaporation.
Obviously this is even more of a problem in hotter temperatures.
Enter the polythene cover –
By covering the hypertufa with polythene the moisture in the mix can't evaporate because it can't get out.
Therefore, all the drying out is from a chemical reaction that happens between the cementA powdery type substance made from a mixture of earths materials such as limestone and shale, which is sintered (cause to become solid mass by heating without melting), ground, and mixed with small amounts of calcium sulphate and calcium carbonate. Cement is activated by water and when mixed with gravel and sand, forms concrete. and the water called 'hydration'.
I kept the hypertufa covered for a total of ten days. (Note that on day 4 I added a skim coat of slurry – see Step 1.5.).
Once a day I lifted the cover for a look-see. Everything was always still moist but I would give it another hose anyway ( a good old saturation) while the cover was off. Then I would put the cover back on again.
Sometimes in the heat of the day, the cover got pretty hot. But that didn't seem to matter.