So!   to recap the curingThe hardening of concrete. The process of becoming hard or solid by cooling or drying or crystallization. In concrete application, the process in which mortar and concrete harden. The length of time is dependent upon the type of cement, mix proportion, required strength, size and shape of the concrete section, weather and future exposure conditions. The period may be 3 weeks or longer for lean concrete mixtures used in structures such as dams or it may be only a few days for richer mixes. Favorable curing temperatures range from 50 to 70 degrees F. Design strength is achieved in 28 days. process
● The curing process lasted ten days.
● The hypertufa was kept moist at all times.
● The hypertufa was covered with plastic sheetAny broad, thin surface. to prevent evaporation.
● The hypertufa got hot at times, but that did not matter.
● The cover was lifted once or twice a day to ensure all was moist and to spray again.
● On day four the slurry was added.
● The cover was put back on and lifted once or twice a day to ensure all was moist and to spray again, and so on until the end of the curing period (day 10)
Note: Maybe the above curing procedure could have been a bit of an overkill, but it certainly worked.
Off with the formwork
That was easy enough to do: just a matter of undoing a few screws.
The form broke away cleanly because we had applied release agent to the form prior to pouring the hypertufa.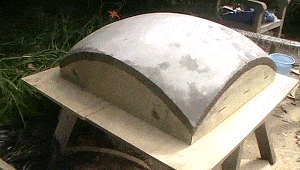 It was pleasing to see how the slurry-coated hypertufa looked at the end of the cure period and after the form was taken off. A successful pour.
Although the curing period took ten days, the time wasn't wasted. I wasn't sitting around for ten days scratching my nose waiting for the curing period to finish. I was getting on with other sections of the project.
Next on the agenda: The head side-covers and the crown