Step 1.6. continued
Fixing the trim to the side-covers
The side-covers were placed on a sheetAny broad, thin surface. of soft boardA piece of sawn, or dressed lumber of greater width than thickness. Usually 19mm (3/4") to 38mm (1 1/2") thick and 75mm (3") or more wide..
The trimThe finish materials in a building, such as narrow boards applied around openings (window trim, door trim) and vertical corner battens. pieces were fixed to the side-covers with glue and small nails.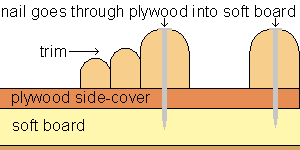 The nails went right through the plywoodA piece of wood made of three or more layers of wood veneer laminated together with glue. and into the soft board.
When all the trim pieces were glued and nailed, the side-covers were lifted off the soft board, turned over, and the protruding nailA short nail with a large flat head used for securing roofing felt, plasterboard, sheet metal to wood etc. points were bent back against the back of the side-covers.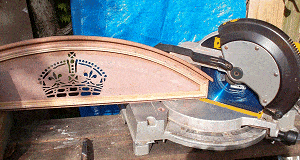 At that stage both the side-covers and the topmost trim were left slightly over length.
The side-covers were then held in place against the head, marked for length, and cut with a miter saw.
The side-covers were ready to be fixed to the head.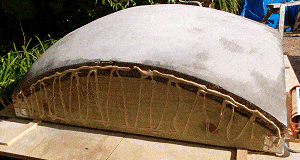 Plenty of glue was applied to the sides of the head as shown in the photo.
I used both glue and nails to secure the side-covers to the head.
I was very careful the glue did not ooze through any of the crown impressions and fill them up –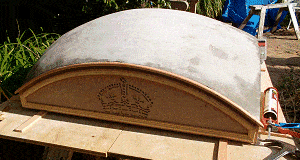 that would be sort of defeating the purpose.
Next on the agenda?
A dabble into fiberglassing.