Step 2.1. continued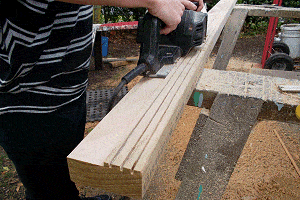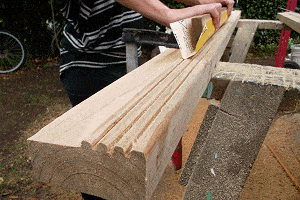 When the groves were cut we planed the adjacent area down to the same depth as the groves with an electric hand planer. It was then just a matter of sanding (and sanding, and sanding) to round the top of the grooves and get the look we wanted.
Alternative tools and cutting methods: We shaped the frame pieces using a circular power saw, an electric hand planer, and sand paper.
Alternative suggestions. A bench saw would have made it easier to cut the grooves which could have been made wider by double cutting. Also a bench saw could have cut the portion that for us needed three or four runs of the electric hand planer to achieve the same result.
A router could have been used to round the tops of the grooves, saving on a lot sanding.
Step 2.2. Cutting the frame members to length
When all the framing members were shaped (corrugated bits and all) they were cut to length as follows:
● 6 @ 79″ (1975mm) with a 45° angle at one end.
● 3 @ 34¼" (856mm) with a 45° angle at both ends.
Note: There were still some pieces of shaped wood left over. They were used at a later stage.
Also the 11/16″ (18mm) plywood for the floor and back wall.
● 1 piece @ 36¼" (906mm) square
● 1 piece @ 34¼" x 79″ (856mm x 1975mm)