Step 2.3. Making the wall frames
I began by making up each individual wall frame.
Using the 'shaped' framing lumber (the wood with the corrugated bits) I made three identical wall frames: the front wall frame and the two side wall frames.
Each wall frame consisted of two vertical side members (studs) and a horizontal head. The lengths are given on the previous page.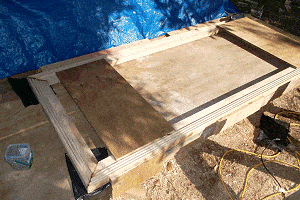 I made up the wall frames on a flat surface.
It was just a matter of gluing and screwing the head piece to the two side pieces (studs).
I fixed two temporary plywood spreaders to the side studs to keep them parallel.
Each spreader was about 30″ (900mm) long x 12″ (300mm) wide. One was fixed near the top and one was fixed near the bottom.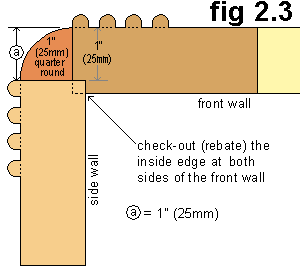 On the front wall only, I had to rebate the inside-edge corners (vertically) on both sides of the wall. This was so that the front and side walls aligned to accommodate the 1″ (25mm) quarter-round pieces of wood that ran the length of the walls vertically.
Refer to the drawing fig 2.3 for details of the rebate size.
My rebate cut was 1/2″ (12mm) in x 1/2″ (12mm) deep, however your rebate cut might be a different size.
It depends on the actual thickness of the frame.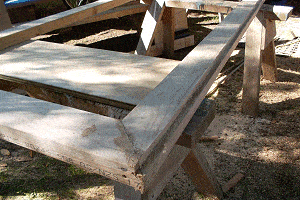 The drawing (fig 2.3) shows that (a)=1″ (25mm).
Using that formula, you will be able to work out the required rebate size.
I made the rebate down each side of the front wall frame with a circular power saw by setting the blade to the required depth and making one cut in along the back, and another cut in along the edge.