Step 2.4. The body frame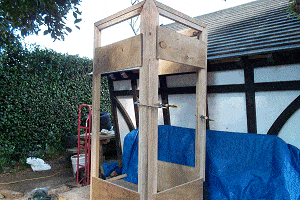 When the individual wall frames were made (the two side walls and the front wall) I stood them up and joined them together.
The two side wall frames fitted into the rebates in the front wall frame.
I held the wall frames together with clamps.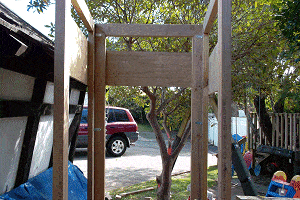 I fixed the frames together on the inside with 4 angle brackets at each corner.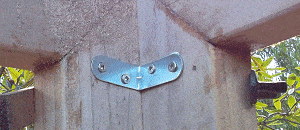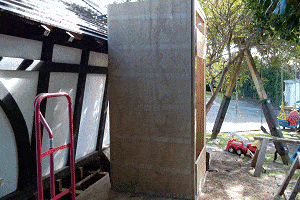 The plywoodA piece of wood made of three or more layers of wood veneer laminated together with glue. sheetAny broad, thin surface. for the back wall was 11/16″ (18mm) thick, 34¼" (856mm) wide, and 79″ (1975mm) high.
The sides of the plywood sheet were setHow much the teeth are angled out on a circular saw blade. back from the corners 1″ (25mm) plus the thickness of the 'corrugated' bit. (See drawing fig 2.4.1).
I glued and nailed the plywood sheet to the two side walls.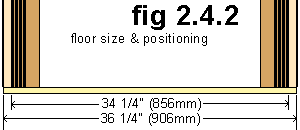 Time to fixTo secure with nails or screws. the floor: I lay the unit down on its front, fixed the plywood floor to the underside of the studs with glue and screws (see drawing fig 2.4.2), and left the unit lying down in that position awaiting the next step.