Step 2.4. continued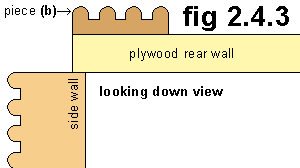 From the leftover lengths of the shaped framing wood (the pieces with the corrugated bits) that I had already made, I had to extract the corrugated bits from the frame pieces in order to use them as the decorative trim around the plywood rear wall.
See piece (b), fig 2.4.3.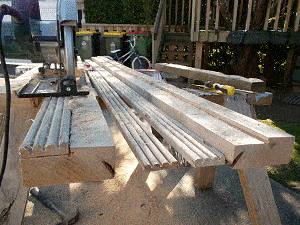 I cut the corrugated bits out of the frame pieces just by making two cuts with my circular power saw.
It would have been a little easier to have used a bench saw, but because I was orchestrating the whole project outdoors it suited me better to use few tools as possible most of the time. (You know, in case the rain came down and I had to scarper inside with everything.)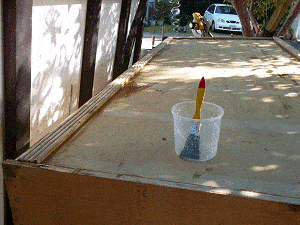 Once made, I glued and nailed the corrugated trim to the sides and top of the back plywood wall.
At that stage the unit was lying face down on its belly.
Note about the glue:
The glue I used for pretty much the whole project was a two pot mix epoxy resin. Actually, it was the same stuff that I used for the fiberglassing except that I added a glue powder to it which meant that I could make it any consistency that I wanted (i.e. thick or thin).
I also opted for a epoxy resin undercoat paint for the complete project as well to ensure that all applications would be compatible.