Step 2.4. continued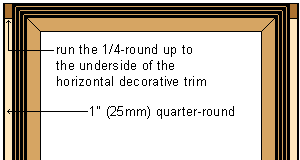 Quarter-round: I cut four pieces of 1″ (25mm) quarter-round woodTimber, lumber. The hard fibrous lignified substance under the bark of trees to the length of 77¼ (1930mm). The length was from the floor to the underside of the top horizontalParallel to the horizon, flat, level. decorative trimThe finish materials in a building, such as narrow boards applied around openings (window trim, door trim) and vertical corner battens..
I then fixed 1 piece to each corner with glue and nails.
Step 2.5. The shackles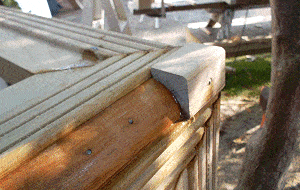 The top shackles comprised of small square pieces of thin plywoodA piece of wood made of three or more layers of wood veneer laminated together with glue., round button pieces (also plywood), and small blocks of wood sanded to a quarter round shape
I cut four 1¼" x 1¼" (30mm x 30mm) pieces of wood into 2″ (50mm) long blocks.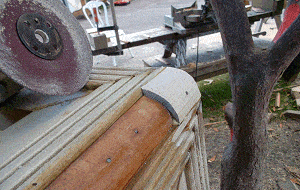 I glued them to the frames above the 1/4 round and held them in place with tape until the glue dried.
Once the glue had dried, I sanded the corner blocks as necessary with an electric rotary sander to make them quarter-round in shape and finishing flushBeing even with. at the sides to the trim (corrugatedHaving alternating ridges and grooves. bits).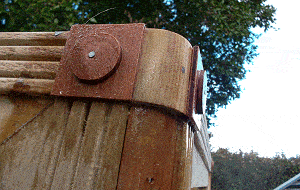 I cut the square pieces for the top corner shackles out of plywood. 8 @ approximately 1¾ x 1¾ (45mm x 45mm).
I cut 8 circles (buttons) out of the plywood 1¼" diameter.
I glued the squares and circles in place and fastened with a small nailA short nail with a large flat head used for securing roofing felt, plasterboard, sheet metal to wood etc. through the center of each button.