Step 3.1. The neck – making the box unit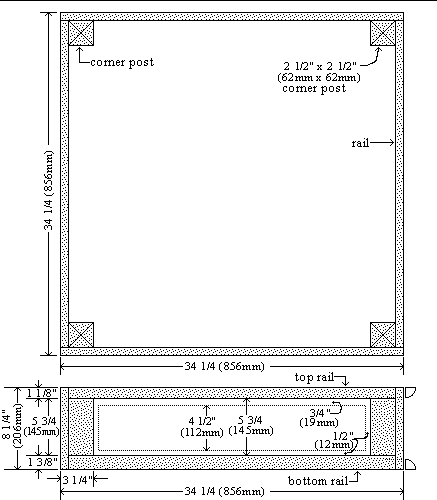 Note: The plan image is scaled to fit in the page.
For a clearer view click on the plan image and it will open in another window where the measurements will be more legible.
Although some plans are shown at appropriate stages throughout the course of these instructions, the plans are also in a complete group in Chapter eight.
The rails
Out of ¾" (19mm) thick boards I ripped (cut lengthwise) two different size strips, 1 1/8;" (28mm) for the top rails and 1 3/8″ (35mm) for the bottom rails.
I ripped enough of each size to allow for the following:
For the top rails I cut 2 @ 34¼" (856mm) and 2 @ 32¾" (820mm).
For the bottom rails, the same – 2 @ 34¼" (856mm) and 2 @ 32¾" (820mm).
The corner posts
I cut four pieces of 2½" x 2½" (62mm x 62mm) wood to the length of 8¼" (206mm).
Making up the box unit
I lay two corner posts apart 32¾" (820mm) overall and fixed the top rail to the top and the bottom rail to the bottom, creating an oblong frame 32¾" (820mm) x 8¼" (206mm). Then I made another, two in all.
I stood the above two frames on end and fixed the other appropriate rails (top and bottom) as per picture.