Step 3.5. The telephone sign

For the telephone signs I used ¼" (6mm) thick clear acrylic sheet (plastic glass).
The size of each piece (4 pieces in all) was 27¾" (695mm) long x 5 3/8″ (135mm) wide.
I had a sign-writer frost the back and put the 'TELEPHONE' text on the front of each piece. My objective was to have a sign that would allow light to shine through, similar to the real thing.
The font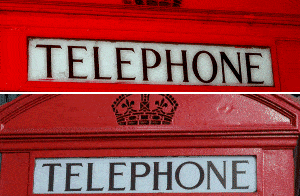 After much research, we (me and the sign-writer) could not find a match from known fonts (within a database of thousands) for the original K2 telephone sign so we made our own hybrid font to match the original.
By the way, after looking at many photos of the K2 telephone box signs it appeared that there were two versions of fonts used, with the main difference between the two being the shape of the letter "O".
One version showed a more oval (egg-shaped) "O" and the other version showed a circular "O". See the two different versions in the image.
I went for the latter, circular "O" which also seemed more popular.
Alternatives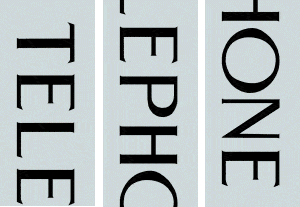 I have made a full-size printout version of the K2 telephone sign. The sign is 3 pages in a PDF file. The pages overlap each other so they will need to be cut to suit.
If you print the file out, be sure to have your printer page handling options set to 100% or Page Scaling: None.
There are a number of ideas that you can do with the printouts if you do not want to go to the expense of using a sign-writer.
For inside use you can simply glue the printout to cardboard or wood-board.
For outside use: same as above but maybe laminate the signs, or frame them behind glass.
You can get the downloadable printout file in chapter eight