Step 4.4. Notching the

muntin

A strip of wood or member separating and holding panes in a window.

bars
I cut all the ¾" x ¾" (18mm x 18mm) cedar muntin bars to length.
42 pieces @ 21 5/8″ (540mm) long and 24 pieces @ 59¼" (1480mm) long, enough to make 6 grids – two for each doorA horizontal framing member above the door/window opening. and window unit.
The muntin bars needed to be notched (channelled out) at various intervals so that the notches in the verticalPlumb, upright. muntin bars would slot into the notches in the horizontalParallel to the horizon, flat, level. muntin bars and form a rectangular grid approximately 21 5/8″ (540mm) x 59¼" (1480mm).
The notches needed to be the width of a muntin barSee Muntin. and 50% of the depth.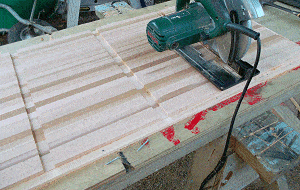 I lay groups of muntin bars side by side.
I marked where to cut the notches along the muntin bars.
The vertical muntin bars needed seven notches spread evenly along the length.
The horizontal muntin bars needed four notches spread evenly along the length.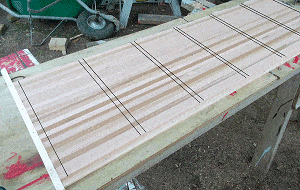 I then setHow much the teeth are angled out on a circular saw blade. the blade on my circular power saw to a depth of 50% the thickness of a muntin bar.
I made multiple saw cuts along each of the marked areas and then cleaned the notches out with a sharp chisel.

By doing this I was able to notchA U-shaped cutout in a member to house another member. A notch has two sides and can be anywhere along the member except the ends (unlike a rebate that is an L-shaped cut-out with one side and is always at an end or side of a member). out multiple muntin bars at one time.