Step 4.7. The acrylic sheet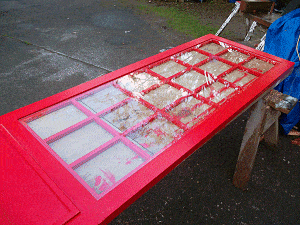 For the door and the two windows I used 3/16″ (4.5mm) thick acrylic sheet: 1 @ 21 5/8″ x 60″ (540m x 1500mm) and 2 @ 22″ x 60″ (550mm x 1500mm) respectively.
Note: Acrylic sheeting is widely known as Plexiglass. Plexiglass, however, is the name given to acrylic sheeting manufactured by Atofina. The same acrylic type sheeting is also known by the names Acrylite, Lucite and Perspex. I'll refer to it simply as acrylic sheet.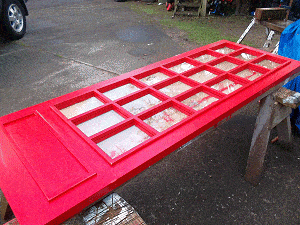 I laid each door and window unit face up on a flat work surface.
To each door and window unit I placed an acrylic sheet on top of its fixed grid.
I then placed a second grid on top of that, so each acrylic sheet was sandwiched between two grids.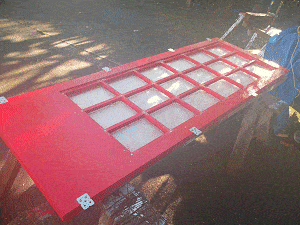 I turned the units over on a packing piece to keep the weight on the grids.
I drilled through the top grid and the acrylic sheet.
I made the drill size bigger than the screw shank and honed back the point of the cutting edge of the drill to make it easier to drill through the acrylic sheet.
I screwed the grids (through the acrylic sheet) together.
I then added brackets to the sides of the window frames, four each side.
This would make it easy to fix the windows to the telephone box.