Chapter 5: The Base and Some Painting
Step 5.1. Making the base
The base is simply a square frame with a rebateAn L-shaped cutout with one side, that is always at an end or side of a member, unlike a notch that is a U-shaped cutout. cut around the inside edge in which the plywoodA piece of wood made of three or more layers of wood veneer laminated together with glue. floor sits.
I cut four pieces of 2½" x 3½" (90mm x 95mm) woodTimber, lumber. The hard fibrous lignified substance under the bark of trees to the length of 40″ (1000mm).
I marked along the narrow faceThe widest side of a piece of wood. of each piece 1¼" (31mm) in, and along the adjacent face 11/16″ (18mm) down (the thickness of the plywood floor).
I setHow much the teeth are angled out on a circular saw blade. the blade depth on the circular saw to the appropriate depth and cut along the marks creating a rebate 1¼" (31mm) in and 11/16″ (18mm) deep.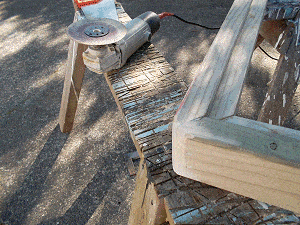 I cut a 45 degree miter (angle cut) each end of each piece across the narrow face of the wood angling in towards the rebate.
I made the cuts so that the length between the longest points of the rebates was 36¼" (906mm).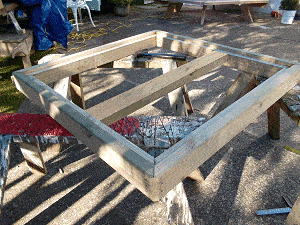 I fixed the four pieces together to make a square.
I rounded all the corners with a disc sander.
And finally (as far as construction went) I added a piece of wood (blockingBlocks, see Block.) across the middle. The purpose of that was to take any bounce or spring out of the plywood floor.