Step 5.2. Some painting
I used a two pot epoxy resin white undercoat paint as that worked for the wood, fiberglass, and the aluminum. The red color was a semi-gloss water paint – BS 539. The black for the base and crown impressions was a gloss water paint, as was the grey for the telephone box floor. I under coated everything once and applied two top coats.
Note: The same safety rules apply to the epoxy resin paint as with the epoxy resin used for the fiberglass.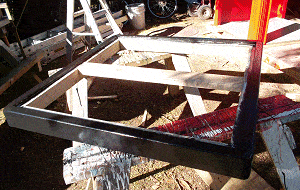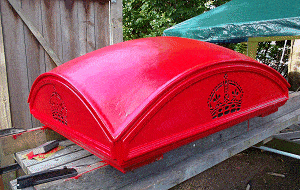 When the red paint on the head dried, I slopped black paint in (and around) the crown impressions and immediately wiped off the excess with a firm damp sponge.