Chapter 6: Putting it all together
Step 6.1. Putting it all together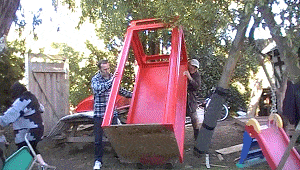 This is the bit we were waiting for.
All hands on deck: the most exciting part of the whole project. We were finally about to get a look at the phone box in its entirety ( the exterior, anyway).
Santi (son-in-law) and I placed the door-less and window-less telephone box body on a hand truck and shuffled it pretty close to the position it was earmarked to go.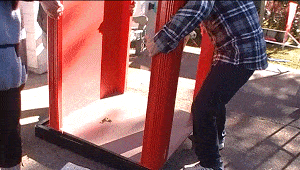 We put the base in place and lifted the telephone box body into that.
The plywood floor dropped neatly into the rebated edges of the base.
The top of the plywood floor finished flush with the top of the base.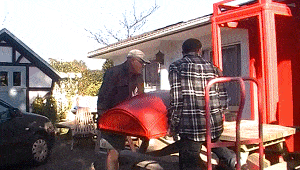 We moved a picnic table as close as we could to the front of the phone box and then ran a couple of planks around the sides.
That was our scaffold to stand on to lift the head onto the neck.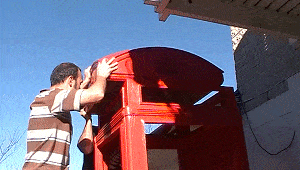 So up we went, onto the picnic table with the head of the telephone box in our hands.
Heave ho! over the top and down onto the neck.
The scotia around the bottom of the head slipped neatly over the top of the neck. Perfect fit.