Some strengthening and the door closer
Some strengthening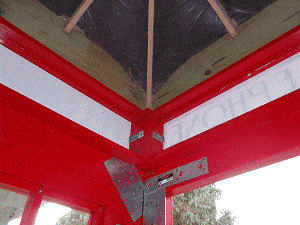 I fitted two 10″ (250mm) galvanized angle brackets to the front wall, one each side at the inside top corners.
That would help stop any sideways warp.
On the side where the door closed I ran a piece of 3/16″ (4mm) thick x 1 3/8″ (40mm) wide aluminum strap down the inside of the door stud, fixed half on and half off.
The protruding half (the half off bit) acted as a door stop.
I also fixed a thin galvanized plate to each top corner of the side walls for added strength – once painted red they wouldn't be noticed.
The door closer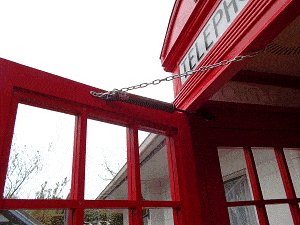 The fly-screen door (on the front door of our house) had an old style door closer on it – a spring/cushion type.
Needless to say, I took it off and fitted it to the telephone box door.
Uh-oh. That didn't go down too well with my dear wife.
I don't think some women understand the psyche of a DIYer on a mission. If he spots a part he needs he will grab it regardless of what it is doing or holding up.
I vaguely remember hearing the words, "if you like the telephone box so much – go and sleep in it."
Anyway, it only took a month and a new fly-screen door for things to get back to normal around the household.
Meanwhile, back to the job. I also fixed a chain to the top of the door to stop the door from opening too far and putting undue pressure on the door closer, as I knew that the grandkids and their friends would be in and out of the phone box like a dog at a fair, and that the door would get more than its share of punishment.