Painting and fitting the ceiling and rose
For the ceiling board I used a piece of 1/2″ (12mm) particle board 32″ x 32″ (800mm x 800mm). I cut the board in half, for ease of installation.
I painted the ceiling and the rose all white except for the circle on the ceiling where the rose was to be fixed. That was so there would be a better effect when looking into the slots in the rose.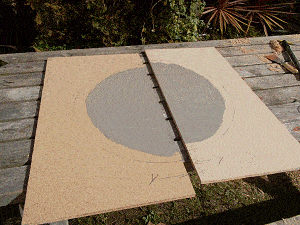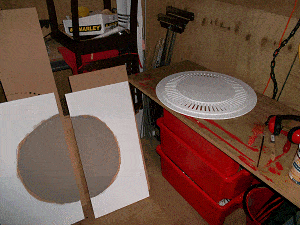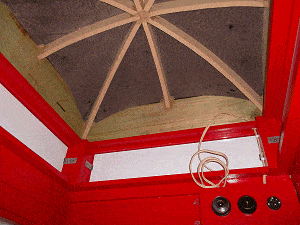 I ran electric light wire into a corner of the cavity in the head.
I also made a little electrical box that contained a light switch, a power outlet and a plug for incoming power.
I cut a little round hole in the back wall just below the electrical box so that I could run a power lead from the house to the electrical box.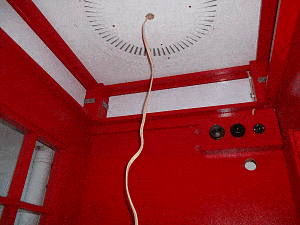 I drilled a hole through the center of the ceiling and the center of the rose for the electric light wire.
I threaded the light wire through the hole in one of the ceiling boards then sat the two ceiling boards on the ledge around the top of the neck.
The wire was then threaded through the hole in the rose, which was then screwed to the ceiling boards.