Step 1.1. The head side-frames.
The head side-frames were made out of 2″ x 8″ (200mm x 50mm) woodTimber, lumber. The hard fibrous lignified substance under the bark of trees. They formed a 36″(900mm) square. The actual or finished size of the wood once dressedSurfaced; planed; smooth; even surface; gauged. (planed or surfacedSee Dressed.) was 1½ x 7½ (190mm x 45mm).
I cut four pieces of 1½ x 7½ (190mm x 45mm) wood, each slightly longer than 36″(900mm). Each piece needed a bevelled curve (compound cut) cut along the top edge.
I needed to make a pattern in order to mark the curved shape on the wood.
I drew a plan on a grid with the line spacings representing 1″ or 25mm. This made it easy to transfer the shape onto a piece of cardboard in real size, cut the cardboard, and then use that as a pattern to mark the wood.
Below is the grid plan with the line spacings representing 1″ or 25mm.

All you need to do to make a pattern is to get a piece of cardboard 8″ x 36″ (200mm x 900mm) and draw a grid with the line spacings 1″ or 25mm apart. Then draw a curve, as shown above, onto the cardboard using the grid lines as points of reference.
For your information; the diameter of the curve is 5ft (1500mm).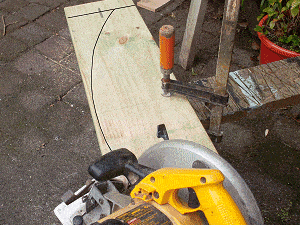 Once I marked the wood, I clamped each piece securely to a saw horse for cutting.
The curve and angle was easy enough to cut (doing a few runs) using a circular power saw with its blade tilted 30° off squareA line across the face of a piece of wood (at right angles to the length) is a square line. A line deviating from the square line is off square. Off-square refers to how many degrees the off square line is in relation to the square line. For example, a line at a 5 degrees angle to the square line, is 5 degrees off square..
Note: The angle cut is outwards from the mark line – not inwards. See the drawing below.