Step 1.1. continued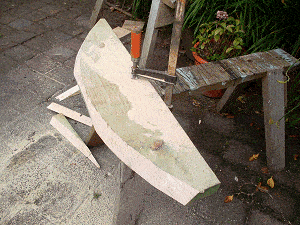 And this (in the photo) is what a piece looked like after the curve had been cut.
Once the curves along all the four pieces were cut, I then cut a 45 miter (angling in) at both ends of each piece.
See the drawing below.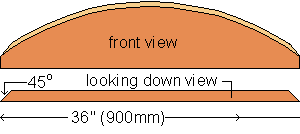 Then, on a flat surface I fixed the four head side-frame pieces together with glue and nails ending up with a 36″ (900mm) square.
Refresher note: The size of the wood I used for the head side-frames was 2″ x 8″ (200mm x 50mm) which is pretty much a common size, but that is the nominal size – i.e., the size that the wood is called. The real or actual size is more like 1½ x 7½ (190mm x 45mm).
In other words the wood starts out at 2″ x 8″ (200mm x 50mm) but by the time it is dressed (planed, smoothed, or surfaced) it finishes up being more like 1½ x 7½ (190mm x 45mm).
Most smooth finished wood is the latter size.
If wood is actually the bigger size (the size prior to being dressed) it is usually called 'rough sawn' or rough lumber.