Step 1.1. continued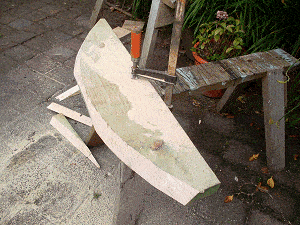 And this (in the photo) is what a piece looked like after the curve had been cut.
Once the curves along all the four pieces were cut, I then cut a 45 miter (angling in) at both ends of each piece.
See the drawing below.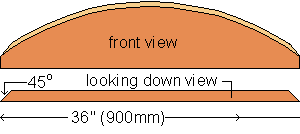 Then, on a flat surface I fixed the four head side-frame pieces together with glue and nails ending up with a 36″ (900mm) square.
Refresher note: The size of the woodTimber, lumber. The hard fibrous lignified substance under the bark of trees I used for the head side-frames was 2″ x 8″ (200mm x 50mm) which is pretty much a common size, but that is the nominal sizeThe rough-sawn size of a piece of lumber. Before the lumber is surfaced, planed or dressed. The nominal size is usually greater than the actual dimension. e.g. 100x50 (2 x 4) actually equals 90x45 (1 1/2" x 3 1/2"). – i.e., the size that the wood is called. The real or actual sizeThe finished (dressed) size as opposed to the nominal size of a piece of wood. is more like 1½ x 7½ (190mm x 45mm).
In other words the wood starts out at 2″ x 8″ (200mm x 50mm) but by the time it is dressedSurfaced; planed; smooth; even surface; gauged. (planed, smoothed, or surfacedSee Dressed.) it finishes up being more like 1½ x 7½ (190mm x 45mm).
Most smooth finished wood is the latter size.
If wood is actually the bigger size (the size prior to being dressed) it is usually called 'rough sawn' or rough lumberAny of the framing wood..