Step 1.2. The head inner support structure.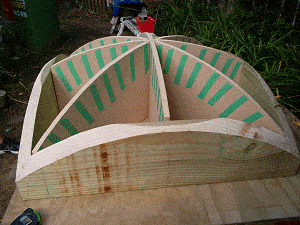 The inner support structure comprised of cross-section and diagonal-section pieces that were used to support the roof until the different following applications (hypertufa, slurry, fiberglass) cured or setHow much the teeth are angled out on a circular saw blade..
I made the pieces out of ¾" (18mm) custom boardA piece of sawn, or dressed lumber of greater width than thickness. Usually 19mm (3/4") to 38mm (1 1/2") thick and 75mm (3") or more wide., but any similar type of board would have done, such as plywoodA piece of wood made of three or more layers of wood veneer laminated together with glue..
There would be two cross-section pieces interlocking in the middle and four diagonal-section pieces fitting neatly into each quarter, running from center to corner. The pieces would give the profile of the dome.
I needed to make a pattern for each piece to mark the shapes onto the custom board.
I drew the plans for each piece onto a grid where the line spacings represented 1″ or 25mm. This made it easy to transfer the shapes onto pieces of cardboard in real size, cut the cardboard pieces, and then use them as patterns to mark the custom board.
Below are the plans I used where the line spacings represented 1″ or 25mm.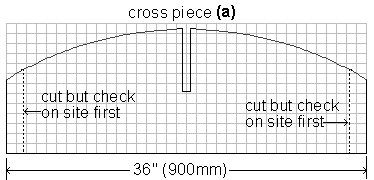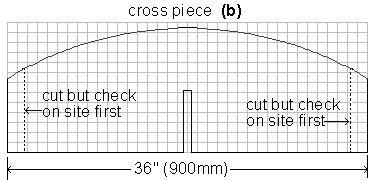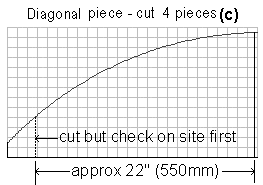 All you need to do to make the patterns is to get 4 pieces of cardboard 25″ x 13″ (625mm x 325mm), and 2 pieces of cardboard 36″ x 13″ (900mm x 325mm), and draw a grid on each piece with the line spacings 1″ or 25mm apart. Then draw the shapes as shown above onto the cardboard using the grid lines as points of reference.
Note: Although various relevant plans are shown throughout the course of these instructions, they are also all grouped together in Chapter 8.