Seat slats and arm-rests
Step 11. Add the intermediate slats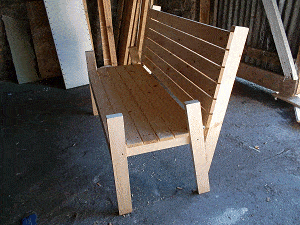 Once the 'cut-back' slats have been fixed between the legs. Then add the rest of the intermediate seat-slats.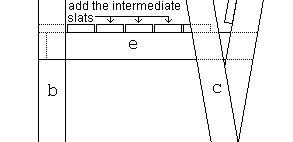 Step 12. Prepare the armrests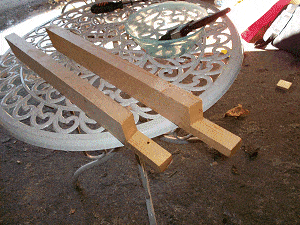 The ends of the armrests (f) need to be cut to fit around the back-rest support (d).
This can be done with a handsaw. Cut out the rebateAn L-shaped cutout with one side, that is always at an end or side of a member, unlike a notch that is a U-shaped cutout. using the drawing below as a guide. Then coat the cut-out area with preservative (if applicable).

Step 13. Fit the armrests
FixTo secure with nails or screws. the two armrests (f) in place.
Glue and screw them to the top of the back and front legs and also into the side of the verticalPlumb, upright. backrest support (d).
Almost finished. Just a bit of strengthening and bolting to go.
Reader Interactions