Side frames and back slats
Step 5.

Fix

To secure with nails or screws.

'side one' cross

rail

The top and bottom frame member of a door or window (not the jamb). Cross member of panel doors or of a sash. Also the upper and lower member of a balustrade or staircase extending from one vertical support, such as a post, to another. The horizontal member of a fence.
Fix a cross-rail (e) to side one's verticalPlumb, upright. members. Refer to the drawing below.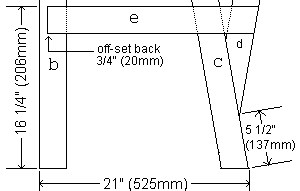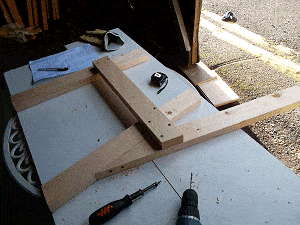 Step 6. Fix 'side two' cross rail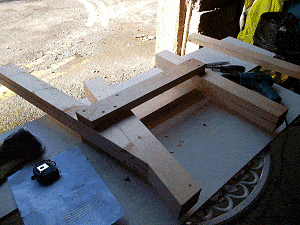 Fix 'side two' cross rail (e) to side two's vertical members.
Note: Side one must be a mirror image of side two.
Refer to the plans for positioning.
To reiterate – The top of the cross-rail (e) should be up from the bottom 16 1/4″ (206mm) and offset back from the front of vertical piece (b) by 3/4″ (20mm).
Step 7. Fix two back-rest slats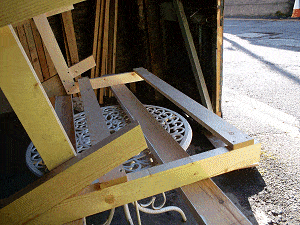 On a flat surface Lay the two side frames on their backs, spaced apart 48″ (1200mm) overall.
Work out (and mark) where the back-rest slats (a) are to be placed along the back-rest vertical supports (d).
Fix (with glue and two screws at each meeting) the first and last (lower and uppermost) back-rest slats in place.