Assemble the side frames
Step 2. Preserve the wood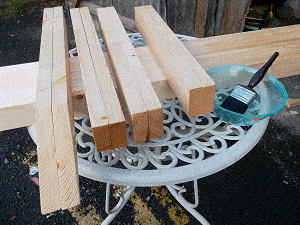 This step only applies if you are using a wood that is not treated or not suitable for outside use.
When the wood has all been cut and all the sharp edges sanded, coat with a suitable wood preservative.
Get advice from you local builders supply store as to the best wood preservative for the job and then follow the instructions regarding applications and safety measures. Normally liquid preservative can be applied with a paint brush or rag and usually requires two or three coats.
Step 3. Fix 'side one' vertical members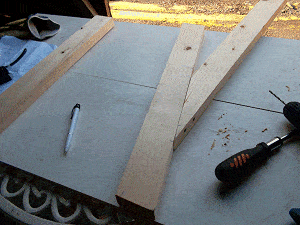 On a flat surface lay out the three vertical pieces ((b), (c), and (d)) for one side in approximate position.
Drill, glue and screw (with 2 screws) the bottom of piece (d) to piece (c).
Refer to the plans for positioning.
The bottom of piece (d) should be up 5 1/2″ (137mm) from the bottom of piece (c).
Step 4. Fix 'side two' vertical members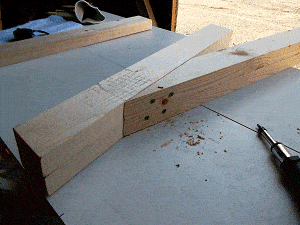 Lay the vertical side-frame members ((b), (c), and (d)) for the second side, on top of the corresponding members of the first side.
As with step 3, fix piece (d) to piece (c).
Placing one side on top of the other ensures that both sides will be the same.