Bolts and strengthener
Step 14. Bolt the frame together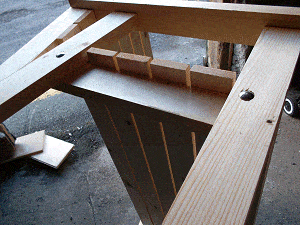 Turn the unit on its side.
Drill 3/8″ (10mm) holes for the bolts where the front/rear legs (b)/(c) and the cross rail (e) intersect.
In all there will be four bolt holes. Two each end.
Ensure that the holes do not cut through any of the screws.
Feed the bolts through the holes and tighten them.
Do two at one end and then flip the unit and do the other end.
Step 15. Fix the under seat strengthener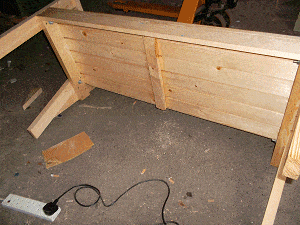 Lay the unit on its back.
Fix the strengthener (a1) to the underside of the seat.
The strengthener (a1) should be centered and run across all the seat slats (on the underside).
Fasten with glue and nails.
Step 16. All finished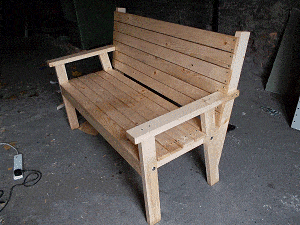 Done!
If you have used a preservative, it would be a good idea to also give the seat a coat of paint.