Making the drip caps
Part 22: Making and fitting the drip caps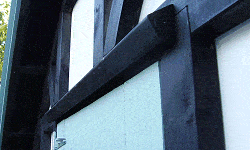 A drip capA molding placed on the exterior top side of a door or window frame to cause water to drip beyond the outside of the frame. is a horizontalParallel to the horizon, flat, level. piece of woodTimber, lumber. The hard fibrous lignified substance under the bark of trees that is fixed above the doorA horizontal framing member above the door/window opening. and window to deflect water from running inside.
This shed requires two drip caps. One to go above the door, and one to go above the window.
Both drip caps can be shaped from a piece of 1 1/2″ x 3 1/2″ (90mm x 45mm) wood that is 40″ (1000mm) long.
Make a pencil line down the length of a piece of 1 1/2″ x 3 1/2″ (90mm x 45mm) wood that is at least 40″ (1000mm) long. See the drawing below for the dimensionsAny of the three linear measurements, length, breadth and depth..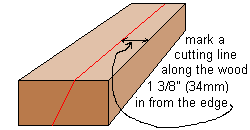 SetHow much the teeth are angled out on a circular saw blade. the angle of the blade on a circular saw (or bench saw) to 26.87 degrees off squareA line across the face of a piece of wood (at right angles to the length) is a square line. A line deviating from the square line is off square. Off-square refers to how many degrees the off square line is in relation to the square line. For example, a line at a 5 degrees angle to the square line, is 5 degrees off square..
Then ripA cut lengthwise along a board that also runs with the grain. (As opposed to cross-cut.) (cut down lengthwise) along the pencil-line.
That will make two drip caps. One for above the window and one for above the door.
Now a bit of paint.
When the paint is dry, fixTo secure with nails or screws. one above the door and one above the window, as low as possible so as not to get in the way of the door or window opening or closing.
Part 22 video clip Time: 0:41
Part 23: The finished shed


Heaps of room!
Part 23 video clip Time: 0:36