Making the sledge
Part 1: Making the sledge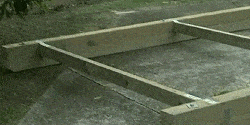 The sledge is the base that the shed sits on.
It is basically a couple of 4″x8″ (200mm x 100mm) runners or skids that are separated by spacers to make a type of sledge.
The runners are 120″ (3m) long. Each runner (skidA solid piece of lumber that fits under a building in place of a footings or foundation making the building able to be moved.) is made up of two 4″x4″s (100mm x100mm) bolted together.
Why two 4″x4″s (100mm x100mm) bolted together?
Because 4″x4″s (100mm x100mm) are cheaper and more readily obtainable than 4″x8″s (200mm x 100mm). However, if you can source the latter, all the better.
The overall width of the sledge should be 80″ (2000mm).
Part 1 video clip Time: 2:08
Part 2: Siting the sledge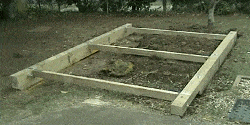 Before you site (position) the sledge, make sure the ground where the sledge will rest is level and firm.
Use a level or a water level to check the grade, and dig accordingly to level the ground directly beneath where the runners (skids) will sit.
For an article on 'how to make and use an inexpensive water level' go to here.
Part 2 video clip Time: 1:14
Part 3: Cutting the joists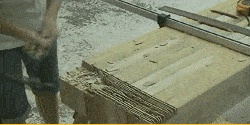 Altogether you will need eleven 1 1/2″ x 5 1/2″ (140mm x 45mm) joists that are 104″ (2600mm) long.
The two end joists will need to have 1″ (25mm) ripped off them, so in effect they become 1 1/2″ x 4 1/2″ (115mm x 45mm). The other nine need a rebateAn L-shaped cutout with one side, that is always at an end or side of a member, unlike a notch that is a U-shaped cutout. cut at each end.
Make the rebates 1″ (25mm) deep and 4″ (100mm) in from each end.
Helpful reference:
For a more detailed description on how to rebate the floor joists, go to here, and although the description is for a smaller shed, the method is the same – only the measurements differ.
Part 3 video clip Time: 0:41