Cutting the wall panels
Part 10: Fixing the curved bracing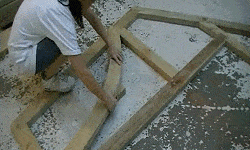 Once the curved braces have been cut (all slightly over length at this stage), align them on the framework above position and mark where they need to be cut.
Then cut them and fixTo secure with nails or screws. them in place.
Part 10 video clip Time: 0:55
Part 11: Marking and cutting the wall panels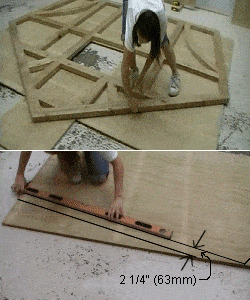 Even though the dimensionsAny of the three linear measurements, length, breadth and depth. and measurements are given in the plan drawings for each and every plywoodA piece of wood made of three or more layers of wood veneer laminated together with glue. wall panelA plywood sheet or any part of, used for the wall cladding., it is probably best to use the front and rear wall-frames as patterns to mark the panels for cutting.
It is not so important with the side panels, as they are rectangular shapes and can easily be marked off the plans.
To mark the front (or rear) plywood panels for cutting, place the appropriate panels in position on an even surface (refer to the 'front/rear wall sheetAny broad, thin surface. plan' for plywood panelA sheet that forms a distinct flat and rectangular section or component. A transparent panel used to fill a framed section of a window. size and placement).
Lay the front (or rear) frame on top of the plywood panels.
Mark around the outside of the frame (onto the plywood) with a pencil and also mark the doorway/window.
Take the frame off the plywood.
Now mark another couple of lines, in 2 1/4″ (63mm) from the side lines. These will now become the cutting lines.
Also make another pencil line an inch (25mm) in from the doorA horizontal framing member above the door/window opening. (or window) line, all the way around. That will also become the cutting line.
Then place the plywood panels on saw-horses or a cutting table, and cut.
Part 11 video clip Time: 2:22