Making the wall frames
Part 7: Cutting the wall frames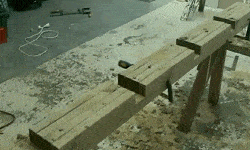 Cut all the wall-frame members to the lengths given in the plans. The bottom and top plates all require rebates and notches to house the studA 100×50 (2×4) vertical framing member used to construct walls. members. This can be achieved by making multiple saw cuts across the notchA U-shaped cutout in a member to house another member. A notch has two sides and can be anywhere along the member except the ends (unlike a rebate that is an L-shaped cut-out with one side and is always at an end or side of a member)./rebate area with a circular saw with its blade setHow much the teeth are angled out on a circular saw blade. to the required depth. The notch/rebate area can then be cleaned out with a hammer and chisel.
Part 7 video clip Time: 1:36
Part 8: Assembling the wall frames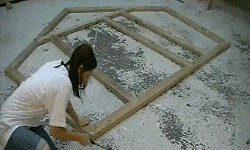 Once all the wall-frame members have been cut and notched/rebated, the frames can be made up on an even surface, such as a large floor, large deckA flat floored roofless area adjoining a house. Timber deck: An outside floor structure comprising of posts, bearers, joists and decking boards. area or concreteA mixture of sand, gravel, water and cement which hardens to a stone like condition when dry. drive. Refer to the plans for placement.
Part 8 video clip Time: 1:57
Part 9: Making the curved bracing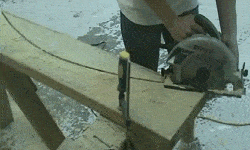 The curved bracing can be cut from pieces of 1 1/2″ x 9 1/2″ (240mm x 45mm) woodTimber, lumber. The hard fibrous lignified substance under the bark of trees that are 48″ (1200mm) long.
You will need eight altogether for each corner of the walls.
You will also need four more smaller curved pieces for the top of the front and rear frames, but they can be cut from the off-cuts.
Refer to the plans for the dimensionsAny of the three linear measurements, length, breadth and depth..
Ideally, use a band saw to cut the curves, however, there is another alternative as explained at here
Note: The curved braces are only decorative. They are not a necessary part of the structure so they can be omitted.
Part 9 video clip Time: 1:38