Cutting the roof rafters
Part 12: Cutting the roof rafters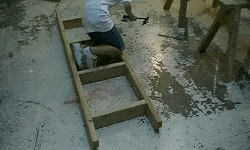 Cut 18 rafters at 87″ (2175mm) long, with an angle cut inwards at one end 36.87 degree off squareA line across the face of a piece of wood (at right angles to the length) is a square line. A line deviating from the square line is off square. Off-square refers to how many degrees the off square line is in relation to the square line. For example, a line at a 5 degrees angle to the square line, is 5 degrees off square., and a 45° chamferA beveled cut along the edge of a piece of wood. cut at the other end.
Once the rafters are cut, use eight of them to make up four ladder-type units, each unit consisting of two rafters separated by four blocks. Make the blocks 19 5/8″ (490mm) long.
Refer to the plans or the drawing below for blockBlocking. A pieces of wood that runs between other members (studs, joists, rafters) to provide support, add strength and/or act as a solid support between panel joins. placements, and refer to the roof plan to show the position of each ladder-type unit over the front and rear walls.
RafterStructural member of a roof that supports the roof load and runs from the ridge to the top of the side walls./fly-rafter blockingBlocks, see Block. detail


Part 12 video clip Time: 1:48
Part 13: Painting the frames and panels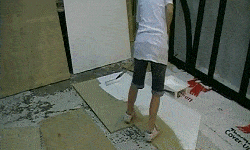 Now's probably the best time to paint the frames and plywoodA piece of wood made of three or more layers of wood veneer laminated together with glue. sheets.
You can slip-slap-slop paint all over the place without having to worry about all that tedious cutting-around where two contrasting colors meet.
The paint used for this project was a charcoal fence paint for the frame and a gloss white for the plywood.
Part 13 video clip Time: 0:44
Part 14: Fixing the wall panels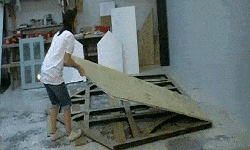 Lay the wall-frames on a flat surface – something that will not scratch the paint work – and then put the plywood wall-panels on top of the frames and nailA short nail with a large flat head used for securing roofing felt, plasterboard, sheet metal to wood etc. them in place.
Use 2 1/2″ (60mm) galvanizedCovered with a protective coating of zinc. flathead nails spaced at a maximum of 6″ (150mm).
Alternatively, use screws.
Part 14 video clip Time: 1:03