The floor and Angle info
Part 4: Assembling the floor frame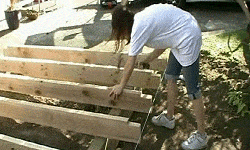 Place the two end joists on top of the runners (one joistOne of a series of parallel members used to support the floor. Part of the framing that provides the structure for a floor. each end) so that they are flushBeing even with. with the ends (of the runners), and overhanging each side by 12″ (300mm).
Run a taut string-line from the end of one end-joist, to the end of the other end-joist.
Pack the string-line out from the joist ends with a nailA short nail with a large flat head used for securing roofing felt, plasterboard, sheet metal to wood etc..
Align the intermediate joists to within a nail's width of the string-line. Refer to the plans for the joist spacings.
Next, fixTo secure with nails or screws. (nail) the joists in place and fix the two ripped down joists to the outside edge of the two end joists.
Then add three rows of blockingBlocks, see Block., one row along the middle and a row each side, 4″ (100mm) in from the ends of the joists.
Part 4 video clip Time: 1:33
Part 5: Laying and fixing the floor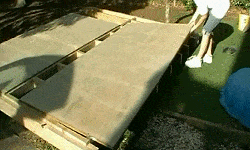 Cut, lay and fix the plywoodA piece of wood made of three or more layers of wood veneer laminated together with glue. sheets to the floor frame. There will be two 48″ x 96″ (2400mm x 1200mm) full sheets and one 24″ x 96″ (2400mm x 600mm) half sheetAny broad, thin surface..
Ensure all joins and edges are over blocking or joists.
Part 5 video clip Time: 0:44
Part 6: Getting the angles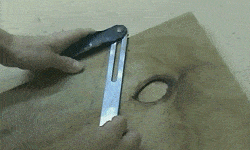 Because of the sloping side-walls and the pitch of the roof, there will be a few varying angles to cope with.
Some of the angles may sound a bit daunting to figure out, but it is really quite easy once you know how.
Part 6 video clip Time: 0:34