Building instructions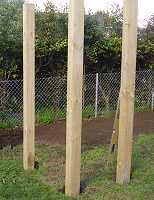 Stand the arbor posts
Dig the holes for the arbor posts. For reasonably firm ground
make the holes 350mm (14″) square by 600mm (24″) deep.
Refer to the arbor plan for dimensions.
Concrete the 100mm x 100mm (4″x 4″) posts in place.
At this stage the posts are longer that the required length.
Wait until the next day for the concrete to harden a bit before cutting the tops of the posts to the required height.
For an excellent description of how to set out (position) the posts, mix and pour the concrete, stand the posts and trim the post tops go to the Garden pergola construction article.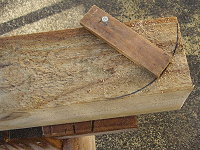 Mark the curves on the beams
Cut two beams 1000mm (40″) long out of 100mm x 100mm (4″x4″) stock.
Mark a 100mm (4″) radius arch at the ends of both beams.
This can be done by making a rotatable arm out of a strip of 120mm (5″) long wood.
Hammer a small nail into the arm 100mm (4″) up from the end until it protrudes out the other side.
Tap the protruding part of the nail into the beam 100mm (4″) up from the end and slightly in from the edge. (See the picture.)
The arm should be able to rotate using the nail as the axis.
Hold a pencil at the end of the rotatable arm to mark the curve.
Do this to both ends of both beams.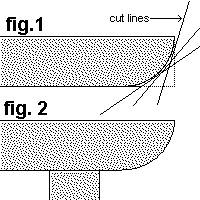 Cut the curves and attach the beams
Cut the curves.
If you do not have a band saw, then you can use a miter saw to cut the curve by making a number of straight cuts at different angles around the curved line (see fig.1). The rounding off process is then completed with sand paper and a sanding block.
If you do not have a miter saw, then the same result can be achieved with a handsaw – albeit a bit of extra work is required.
Next place the beams on top of the posts and fix in place.
Angle nail (toe nail) through the sides of the beams into the tops of the posts.
Refer to the arbor plan for position.
Make the frame for the lattice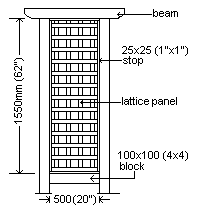 The lattice frames (one each side of the arbor) comprise
the posts, the beams and the lower blocks.
Complete the lattice frames by fixing a 100mm x 100mm (4″x4″) block approximately 1550mm (62″) below each beam.
Fit the Lattice
The objective is to sandwich the lattice between two pieces of wood (stops) which are fixed to the frame.
The frame is the posts, beam and lower block.
25mm x 25mm (1″x1″) square stops are used in this project.
(1) Firstly, fix the stops around the inside of the frame to one side only.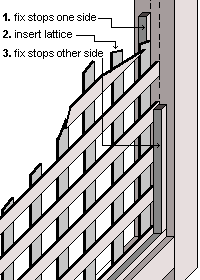 (2) Insert the lattice.
(3) Fix the stops against the lattice on the other side (see drawing).
There is a detailed account of how to install lattice here.