Building instructions continued
Cut the arbor rafters
Cut six 900mm (36″) rafters out of 100×50 (2″x4″) stock.
Make one end of each rafter curved and cut the other end 18.4° off square.
Refer to the arbor plan for dimensions.
Cut the curved ends in exactly the same way as the beam ends were cut.
See previous page.
Do not worry about making the seat cut in the rafters at this stage.
Join the rafters together and add the laths

1. On an even surface nail the tops of two rafters together making a pair. There will be three pairs of rafters altogether.
2. Nail the bracing pieces to each pair.
3. Lift the three pairs of rafters onto a workbench (see drawing above), and spread them out evenly.
Refer to the plans for dimensions.
Nail the 50mm x 50mm (2″x2″) laths to the rafters. Begin the first lath 30mm (1 1/4″) down from the tops of the rafters and space all the rest
100mm (4″) from center to center.
Mark and make the seat cut
Make a marker piece by cutting a length of 50mm x 50mm (2″x2″) wood 1100m (44″) long.
1100m (44″) is the exact width of the arbor from the outside of one beam to the outside of the other beam.
Stand the arbor top on edge and place the marker piece on top of a pair of rafters.
Position the marker piece so that both ends are sitting 40mm (1 1/2″) onto the rafters and also ensure that the marker piece is central.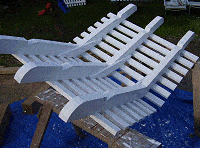 Mark the ends of the marker piece on the rafters and then remove the marker piece.
Do the same thing to the other two pairs of rafters.
All the seat cuts are now marked.
Cut them out with a handsaw.
Might as well paint it now
It's a lot easier to paint the arbor top while it is still on the ground!
Fix the arbor top in place

Now it's just simply a matter of lifting the arbor top onto the beams.
The seat cuts should sit neatly on the beams.
Position the top so it is equal distance front and back and nail in place.
Finished!